2021 Maserati Ghibli Pricing Guide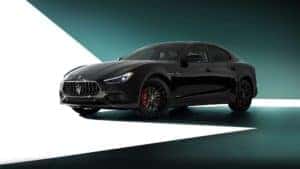 If you're thinking about the new Maserati Ghibli, it comes in a variety of trim levels. This Maserati Ghibli pricing guide can help you figure out which one is right for you and your budget.
Maserati Ghibli
Starting MSRP: $73,685
Even the base Maserati Ghibli is pretty spectacular, as it offers a twin-turbocharged 3.0-liter V6 engine that produces 345 horsepower. It also comes standard with Apple CarPlay™, Android Auto™, satellite radio, and a navigation system.
Maserati Ghibli S
Starting MSRP: $78,685
The S trim (as well as the next two) also comes with a twin-turbocharged 3.0-liter V6 engine, but this one pumps out 424 horsepower.
You can swap out the standard rear-wheel drive for all-wheel drive. The cabin in the S trim has 12-way power-adjustable and heated front seats, as well as a variety of leather accents.
Maserati Ghibli GranSport
Starting MSRP: $81,185
Sport seats come standard in the GranSport trim. You will also get a heated steering wheel wrapped in black leather. Another notable addition is a 10-speaker, 900-watt Harman Kardon® sound system.
Maserati Ghibli GranLusso
Starting MSRP: $81,185
Enhanced comfort just keeps coming with the GranLusso trim. The upholstery is a combination of genuine leather and Ermenegildo Zegna silk.
The front seats now have a ventilation option too. You will also get adaptive LED headlights and automation high-beam assist.
Maserati Ghibli Trofeo
Starting MSRP: $111,385
The top-of-the-line Trofeo comes with a 3.8-liter V8 engine that will give you an impressive 580 horsepower. In addition to pretty much everything else in the lower trims, this model comes with Launch Control and the Corsa driving mode, which means you'll get superb acceleration and handling.
To take a look at any of these trims, visit Maserati of Santa Monica.