Ordering Maserati Parts Online is Easy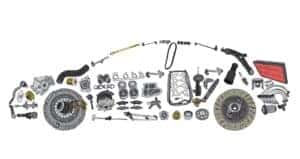 Even if you do everything you can to maintain your Maserati, certain parts will eventually wear out. Tires, brake pads, and batteries are some of the more common components that won't last forever. Fortunately, ordering the right Maserati parts online is easy, thanks to Maserati of Santa Monica. All you need to do is fill out our online form.
Your Contact Information
Start by inputting your name, email address, and phone number so we can contact you when your part comes in. If we have any questions, this also allows us to quickly get in touch with you.
Your Vehicle Information
Step two is to enter everything you know about your vehicle. The more details you give us, the easier it will be to find just the part you need.
Input the year, model, trim, and type of transmission.
The Part Information
Finally, just let us know what part you need. If you have the part number, that's great, as it makes our job a little simpler.
If you don't, you can put in a description of what you're looking for. Be sure to check the installation box if you'll want our service center to install the part for you.
Once you submit the order form, we'll get to work. As mentioned, we may contact you if we need more information about your vehicle in order to find the right components.
It may also be beneficial if you bring your car down to the parts department at Maserati of Santa Monica. Then you'll be able to talk to one of our experts for advice and recommendations.